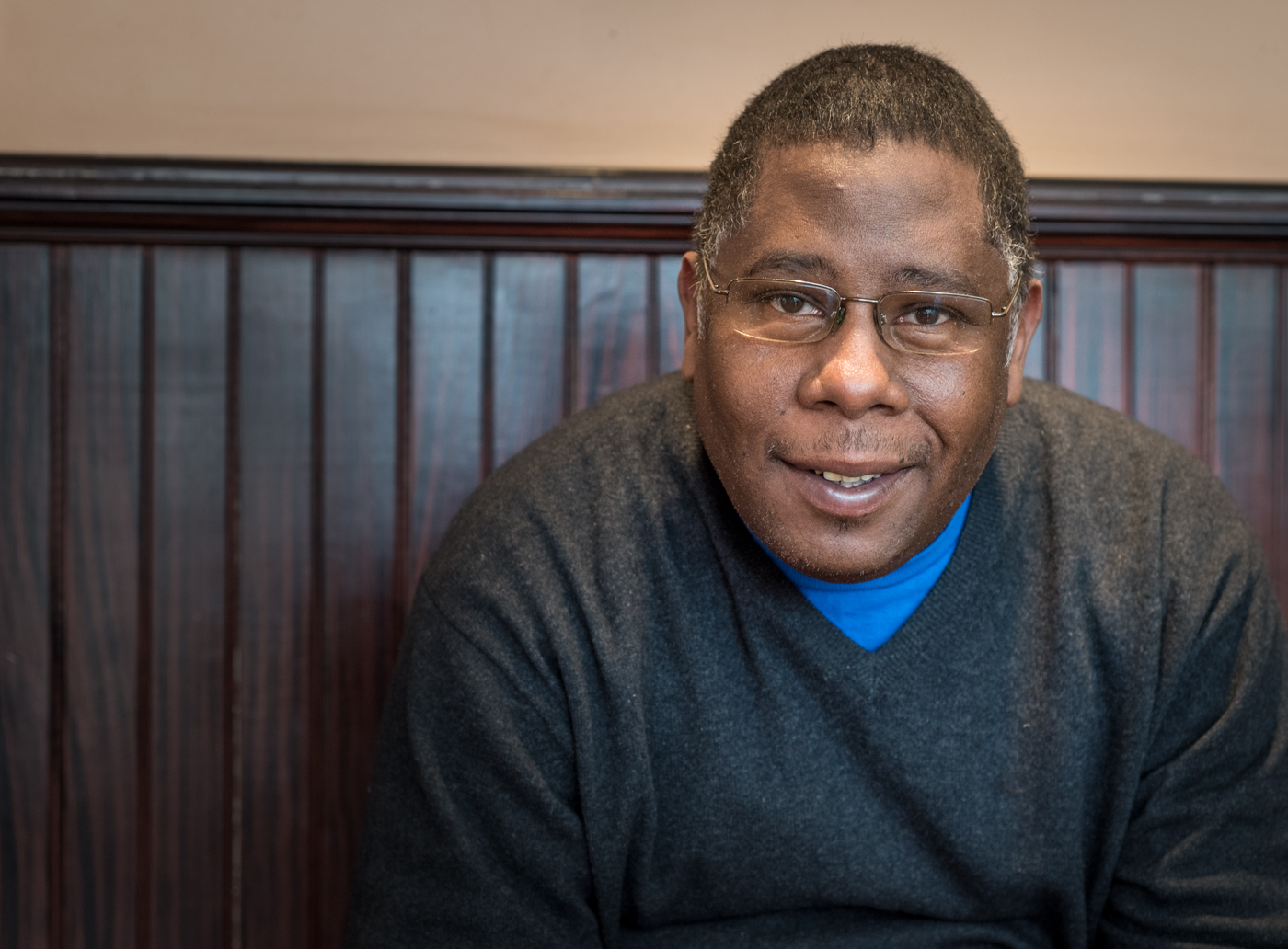 Name:
Troy Staton
Innovation: Fusing fine art with the art of barbering to uplift the community
Age: 47
Home: Edomonson Village

Occupation: Owner, New Beginnings Barbershop
Hobbies: Cigar aficionado

Fun Fact: Staton got into art watching "The Cosby Show," which exposed him to work by Romare Bearden and Paul Goodnight.

Twitter Handle: @troyluvsart
Troy Staton brings art to the community—and the community to art—in his SoWeBo barbershop.
By Jessica Bizik
Photography by Bob Reagan
When a door closes, a window opens. For Troy Staton, that came in the form of huge bay windows at the front of 1047 Hollins Street, where he runs New Beginnings Barbershop.
"It sounds corny, but finding this location made me realize nothing can keep me down," says Staton, who got pushed out of his previous shop on the West side during an "urban renewal" sweep.
The SoWeBo building's past life as as a bookstore and coffee shop inspired Staton to fuse his two passions: cutting hair and collecting art. He's since turned the grand space (complete with spiral staircase and floor-to-ceiling bookshelves) into a thriving art gallery brimming with works he's purchased over the years and rotating exhibitions by renowned and emerging artists.
You might see a shadow box Sam Gilliam, an abstract painting by Ernest Shaw, a sculpture made from dreadlocks by Renee Stout or photographs from the Black Male Identity Project. (One striking example features a barber chair in a crumbling Maryland prison.)
Staton has gotten acclaim for his curatorial eye from the likes of Leslie King Hammond, founding director of the Center for Race and Culture at MICA. It's a compliment he holds in equal regard with positive responses from his clients and their kids, many of whom have never been to an art museum.
They taught me how to hone my skills, but they also taught me compassion.
"It's all about igniting young minds," says Station over the tranquil hum of electric razors and Coltrane. "I'm constantly waving people inside from the sidewalk. Some galleries are so intimidating that people think, 'I don't belong in there.' But everybody belongs in here."
Staton started cutting hair on his mother's front porch in Cherry Hill when he was in high school, then went on to study at West Side Skill Center and apprentice at Harry's Afro Hut and Lenny's House of Naturals.
"I trained with all the legends," he says. "They taught me how to hone my skills, but they also taught me compassion–how to lift people up without taking away their dignity."
Staton keeps about a dozen suits in the shop for local guys to borrow for job interviews, offers summer jobs for teens, partners with an adult day-care program and collects donations for Maryland Food Bank.
The diversity and unity he observes growing in SoWeBo give him hope for the future: "I see a new Baltimore coming alive," he says.