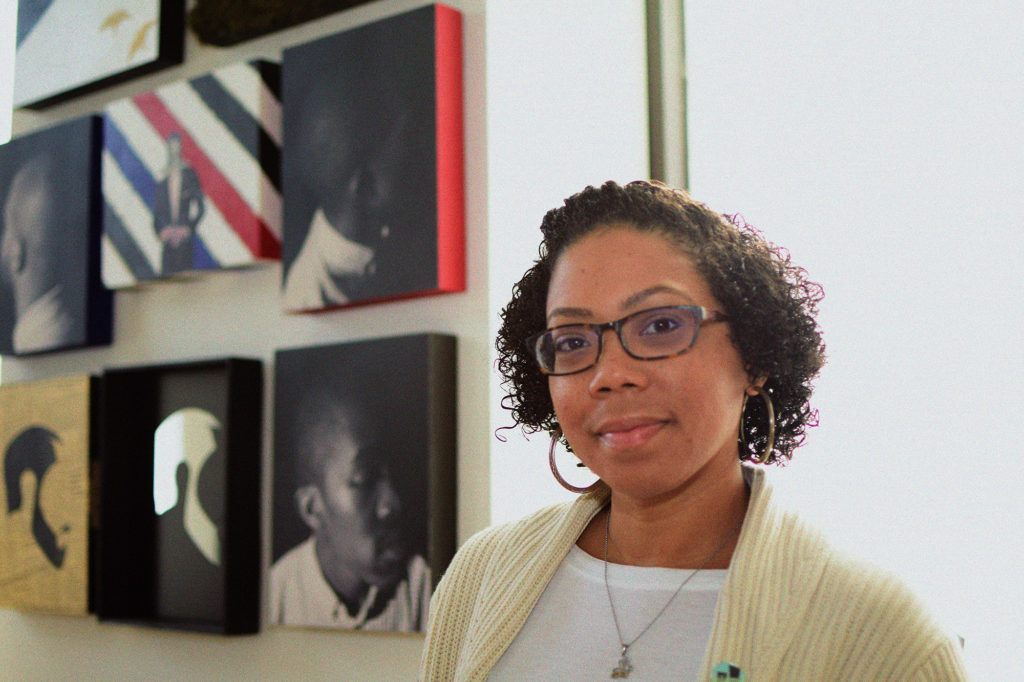 Name:
Tiffany Jones
Innovation:The Color With Me Pop-up Installation and Collaboration
Age:36

Home: West Baltimore (Violetsville)

Occupation: Director of Programs and Site Coordinator Access Art Inc. and visual artist with focus in photography and mixed media.
Hobbies: Art, Spending time with Family, Cooking, Movies, Travel, Outdoor Activities

Fun Fact: I'm not as serious as people may assume, I'm goofy 90% of the time!
Twitter Handle: @tiffanyj_art (instagram)
Unveiling Baltimore's Hidden History
An artist creates a mural for the community to color together
By Jessica Bizik
Photography by Chris Crews
For most people art is therapy, but for Tiffany Jones art is community. The 36-year-old, visual artist has created a way for people of all ages to connect through the arts and the rich history of Baltimore.
After discovering the history of segregated Pool #2 at Druid Hill Park, Jones created her first community mural. During segregation, Pool #2 was one of the only public pools for black Baltimoreans to swim. Positioned in the back of Druid Hill Park, just beside the Maryland Zoo, the pool could only accommodate a number of city residents. During the exhibition, many people attended and learned about the rich history of Pool #2.
"I'm so in love with the history of the city. A lot of youth don't get to hear the story of the city. I see the impact the art has on the youth and how they can learn so much about themselves and have a sense of pride."
It was then that she realized there are probably dozens of places in Baltimore with deep historical roots connected to African-Americans of Baltimore; the Color with Me project was birthed. As a pop-up art collaboration, Tiffany and her team will research the history of a particular site significant to the African-American life in Baltimore and create a mural and accompanying coloring book. The community will be invited to come out and color it together reactivating the site and sharing the narrative.
Originally from Springfield, Massachusetts, Tiffany moved to Baltimore in 1996 to attend Baltimore City College for high school. Through her college career her passion for art deepened.  "I'm so in love with the history of the city. A lot of youth don't get to hear the stories of the city. I understand the impact art has on youth and how they can learn so much about themselves and develop a sense of pride.
Jones' biggest influence was her mother. "I learned to be myself by watching her. She taught me to be fair. Be kind. Have an open mind and just listen to people. Make sure you keep relationships going. Say hi to someone. Stay connected. Always believe in yourself and keep pushing and moving forward." She has used her mother's advice to create a living art exhibit of history and humanity.