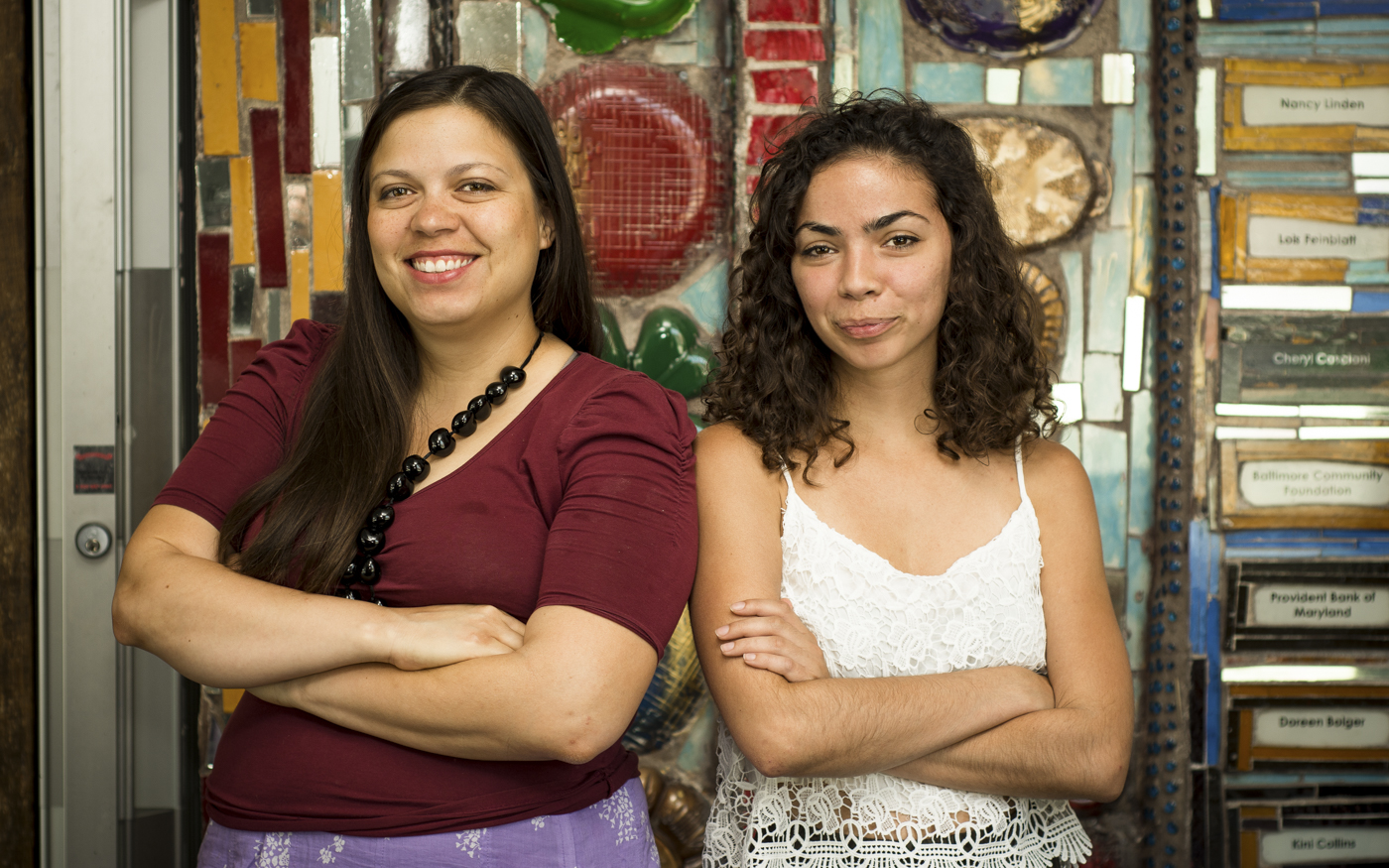 Tanya Garcia & Maria Aldana
Name: Tanya Garcia and Maria Aldana
Innovation: Using art to tell the stories of young immigrants
Age: 26 (Garcia), 34 (Aldana)
Occupation: Community art fellow (Garcia), community art manager (Aldana)
Home: East Baltimore Midway (Garcia), Hampden (Aldana)
Hobbies: Travel, hiking, photography (Garcia), Traveling to Nicaragua (Aldana)
Immigrant voices, out of the shadows
Using art to tell the stories of young immigrants
By Michael Cross-Barnet
Photography by Chris Crews
Last year, more than 50,000 unaccompanied minors left their homes in Central America for the United States, most fleeing gangs and violence. Maryland was a major destination, and many settled in Baltimore. News accounts at the time portrayed a swarm of humanity fleeing across the border, but to artists Maria Aldana and Tanya Garcia, those undocumented children were not faceless masses but courageous, resilient individuals with unique stories. Now, some of those stories will be told.
Aldana and Garcia are the creative forces behind "Después de la Frontera/After the Border," a multimedia art presentation coming Patterson. The exhibit, curated by Garcia, a Deutsch Foundation community art fellow and overseen by Aldana, community arts manager for the Creative Alliance, will open on Aug. 22 and move to Towson University in October.
The project began with a coalition of service providers who work with immigrants and wanted to tell the stories of youths who had come to Baltimore in 2014, in part to counteract what they considered unfair portrayals in the media. They proposed the idea to the Creative Alliance, where Garcia was already exploring similar issues in her art, and "Después de la Frontera" was born.
There's a real diverse story to be told with these kids.
"There was a lot of negative press, stereotyping that these youths were dangerous, dirty, bad, that we as a country didn't have the resources or desire to invite them into our neighborhoods," says Aldana, herself a refugee from Nicaragua. "The urgency was to shed light on the positive stories of these youth."
"There's a real diverse story to be told with these kids," says Garcia, who was born in Alabama to Puerto Rican parents.
In addition to curating the work of the other artists in the exhibit, Garcia contributed a video installation piece that depicts youths describing life in their home countries, their journey to the United States, why they decided to come and their hopes for the future.
The exhibit will also include information from various organizations that help immigrant children with resources ranging from health to education to legal issues. Local school groups will be brought in, with children invited to share their own immigration stories in an interactive gallery. A workshop will be offered for undocumented immigrants to see whether they qualify for a pathway to citizenship under President Barack Obama's recent executive order.
"Después de la Frontera" is just one example of how the Creative Alliance is responding to demographic changes by increasing its Latino-oriented programming, including bringing in folkloric artists, films and poetry.
"The Latino population is already here," Garcia says, "and like any other immigrant group that's already come, once you have established a community of people, it continues to grow."