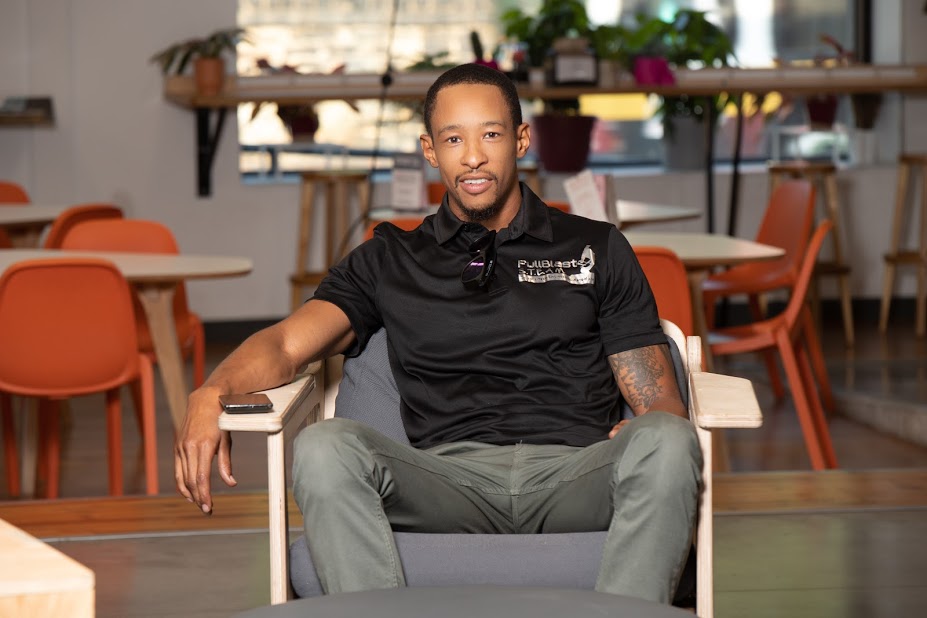 Mr. Robot

Muhammad Najee-Ullah aims to turn technology into a sport — and an equalizer for underserved kids and communities.
By Jessica Bizik
Photography by Justin Ross
Muhammad Najee-Ullah is a life-long techie. As a kid, he loved watching "Star Trek" and building Transformers. Then as he got older, he graduated to building his own bikes and chain sets, and helping his father out with projects around the house. 
"I didn't have a makerspace where I could go to learn hands-on," he says. "So I mostly just hacked around and read lots of magazines, like Popular Science and MIT Technology Review, which exposed me to all the cool stuff that was going on in the tech world."
Today, Muhammad is bringing that world to kids in Baltimore through FullBlast STEAM, a series of exciting design/build/complete workshops and pop-up team competitions, where students get to play "life-sized adventure games" incorporating all the latest technology.
"Our​ ​goal​ ​is​ ​to​ ​bring​ ​young​ ​people​ ​ages​ ​7 to 18​ ​from​ ​zero​ ​or​ ​little​ ​knowledge​ ​of electronics,​ ​robotics,​ ​drones​ ​and​ ​programming, up​ ​to​ ​general​ ​competency​ ​in​ ​these​ ​areas — preparing​ ​them​ ​for​ ​further​ ​educational​ ​opportunities​ ​and​ ​guiding​ ​them​ ​towards​ ​STEAM hobbies,​ ​careers ​and​ ​entrepreneurship," he says.
FullBlast is filling a real void here, because many companies that host robotics competitions and innovation contests either don't market to urban youth or charge too much for their schools and families to participate. Worse, since many top employers use these events to cultivate and scout new talent, Muhammad believes that "years of under-attendance has led those in control of resources to think our young people don't have what it takes to succeed in the corporate tech environment."
It's a false narrative that some in underserved communities believe, too — thanks, in part, to a lingering ghost of an idea that tech is "difficult" or "not for me." In addition, many parents remain unfamiliar with opportunities that exist, for themselves and their kids, in technology development and the makerspace/DIY movement.
"Even teachers who are used to STEM concepts don't always feel comfortable using or managing tech resources," says Muhammad. "For example, I've seen schools receive a 3D printer as donation, only to keep it locked up in a room, because they don't have anyone to teach the kids how to use it, or they're afraid the kids will break it."

Muhammad has a go-big-or-go-home vision for tackling these problems. His long-term vision is to elevate PURGG to a full-on "tech sport," where monthly team tournaments become popular spectator events for families and communities — complete with instant replays, live commentators, fan gear and all the other bells and whistles traditionally used to produce and promote major sporting events. 
"We're literally competing with popular entertainment, so we have become equally as attractive and engaging," he explains. "That means using all the slick marketing tricks that exist in the 21st century, but for good versus evil."
So instead of inspiring kids to dream about becoming pro ball players, multi-platinum recording artists or Youtube stars, PURGG aims to produce an entire generation of real-world tech superheroes, who will use their STEAM skills to solve problems (and maybe even save lives) in their own communities. 
"My goal is nothing short of changing the youth culture — and all of our futures for the better," says Muhammad. "My goal is Wakanda, but for real."