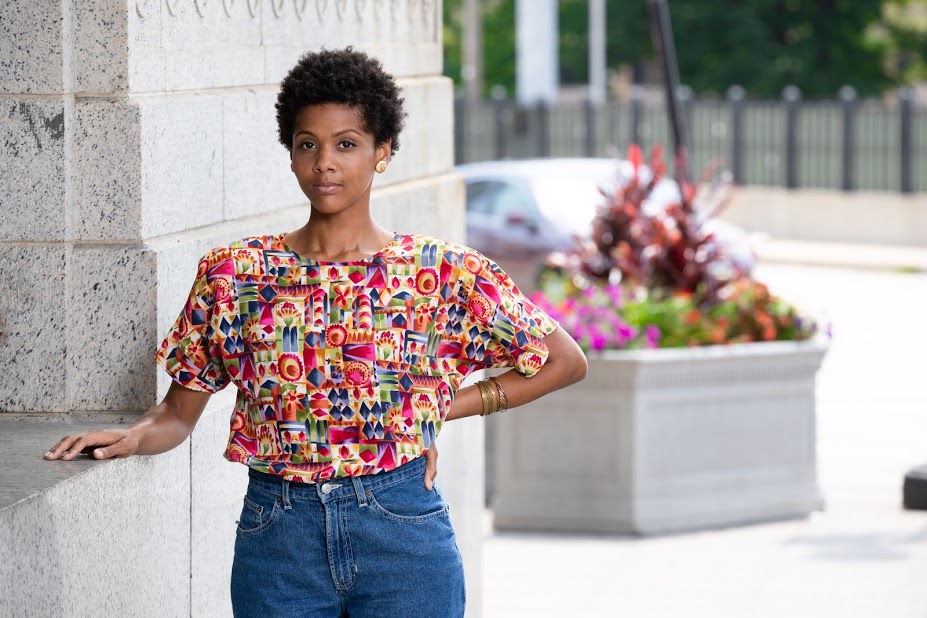 Documentary Now

Arts educator Candace Everette is helping East Baltimore kids find their voices — and making a film about it. 
By Jessica Bizik
Photography by Justin Ross
Candace Everette has never been a boxer. But when she tells her story, you can almost picture her in the ring, gloved-fist held high in the air, as she accepts her gold championship belt. 
"Children in my community need to identify with a person who has not only lived the same trials, but has become a proud victor," says the Baltimore School for the Arts graduate and founder of A M.A.Y. Project, which uses theater-based strategies to promote healthy social/emotional development in youth. "I have an obligation to share how fruitful my life has become, in large part, because of the arts." 
For her Warnock Foundation fellowship, Candace is producing "Higher," a documentary exploring the creative narratives of youth, families, community members and social advocates in Baltimore City. Filmed over a four month period, the movie highlights several families, some who have experienced adverse childhood experiences, with a special focus on 6 kids, ages 7 to 16, as they work with Candace to prepare for  live storytelling showcases. 
"I'm narrating this documentary from the perspective of a teen mom, a survivor of abuse, a former college dropout turned college graduate, and now as an entrepreneur," says Candace, who works as  Program Manager for Greenmount West Community Center, and is currently pursuing her master's in Arts Administration at Goucher College. 
During the intense 8-week rehearsal period, Candace drew on her personal and professional experiences to create a safe, healing environment for the children as they prepared to tell their stories on stage. 
"Theater requires a lot of self-reflection, which can be super-scary and uncomfortable, especially when you've experienced trauma," she says. "But the kids allowed themselves to break down walls they had developed as a survival mechanism. And they allowed me to support them in this incubator-like space, where they started to hear their voices for the first time and use their bodies in ways they hadn't before."
Collectively, she and the kids created a rich tapestry of monologues infused with dance and spoken word. And through that experience, Candace believes the students are beginning to recognize their true value. "They're starting to understand their gifts have the power to effect change," she says. 
The purpose of the documentary is to share these stories with the world — and to encourage individuals, corporations and policymakers to invest more robustly and intentionally in Baltimore City. 
"We need resources now. I've been in the same trenches as these kids, opening my home when they want a little more to eat or when they just need a listening ear," she says. "They are dealing with very challenging circumstances, through no fault of their own. Yet they still found a way to show up every single day prepared to rehearse and give this project their all." 
What moved Candace most was the performers' generosity — their authentic desire to take pain they have experienced and transform it into something beautiful to educate and inspire the masses. 
"Our children have thoughts, they have opinions, they have suggestions, they have a heartbeat," says the mother of two boys. "All they really want is to be seen and heard. I wish the adults in our polarized, hyper-politicised society would stop yelling at each other long enough to listen to them."