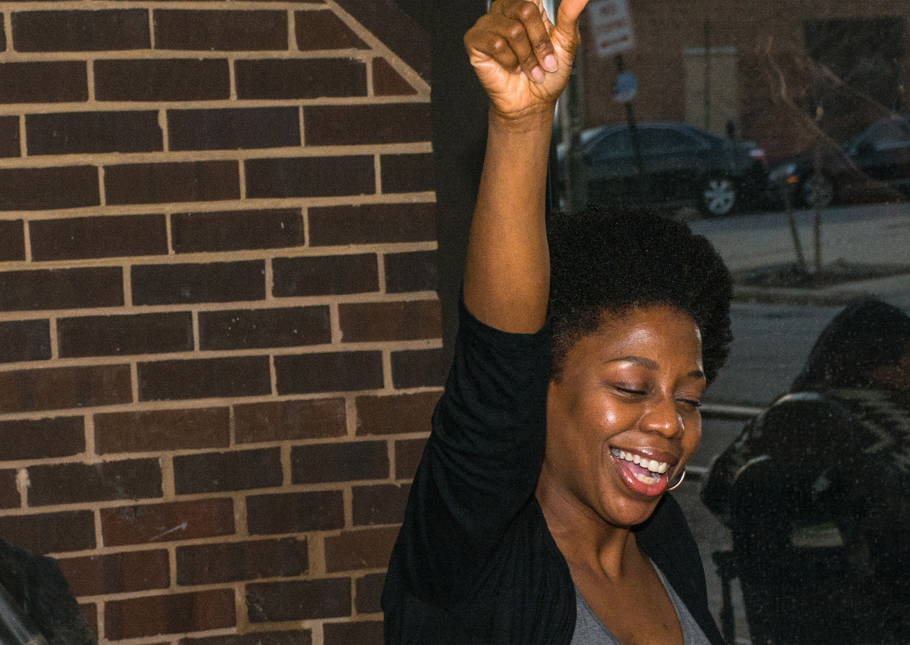 Name:
CJay Philip
Innovation: Shining a spotlight on seniors through the performing arts
Age: 40s
Home: Mount Vernon
Occupation: Artistic director, Dance & Bmore
Hobbies: Quiet time, taking walks
Fun Fact: CJay produced sold-out European run of her hip-hopera Carmen with her oldest brother Kevin
Twitter Handle: @gocjay
A Broadway performer brings out the kick-ball-change in Station North's fabulous (and fussy) senior citizens.
By Jessica Bizik
Photography by Jim Sandoz
"I gravitate toward fussy people" says CJay Philip, who became part of a blended family of 14 big personalities when her mom married her step-dad, each bringing six kids. (She's the baby.)
The award-winning actress, singer and choreographer–who has appeared on Broadway in Big the Musical, Street Corner Symphony and Hairspray–got her break at the age of two-and-a-half when her older sister "pitched a fit" in dance class…and she sneaked in to take her place.
Today, Philip gives kids and parents the chance to get creative together through Dance & Bmore, a professional company committed to family advocacy. But the self-proclaimed "old soul" also has a sweet spot for seniors and recently started offering Fit & Fun Jams movement, music and storytelling workshops at the J Van Story Branch Apartments in Station North.
While one goal is to encourage a sense of community inside the building ("They can be cliquey," Philip says), the group also hits the road to perform. They made a splash at last year's Artscape–the first time any of the residents had attended the arts festival, even though they live just a few blocks away.
I gravitate toward fussy people.
And don't even get Philip started (but, really, do) about the Seoul to Soul Festival, where they performed a traditional folk song in Korean with the help of a 17-year-old intern who was obsessed with K-Pop.
"Church went up! All the Koreans started singing and crying and reaching out to us on stage," recalls Philip. "They were just so touched that a group of African Americans would take the time to learn something so special to their culture."
Outings can stir up emotions for the Jammers, too, such as the night they went to see a play at Center Stage, which brought out one woman's story about being a past drug abuser.
"We just listened and held her," says Philip, who believes helping seniors hold onto memories is just as important as making new ones.
Claiming ownership of their history and future–not to mention singing and dancing–has transformed many of the seniors, helping their confidence soar.
"At first they were hesitant about going out into the world," Philip explains. "Now they roll in like rock stars wearing their Fit & Fun Jams t-shirts everywhere we go."