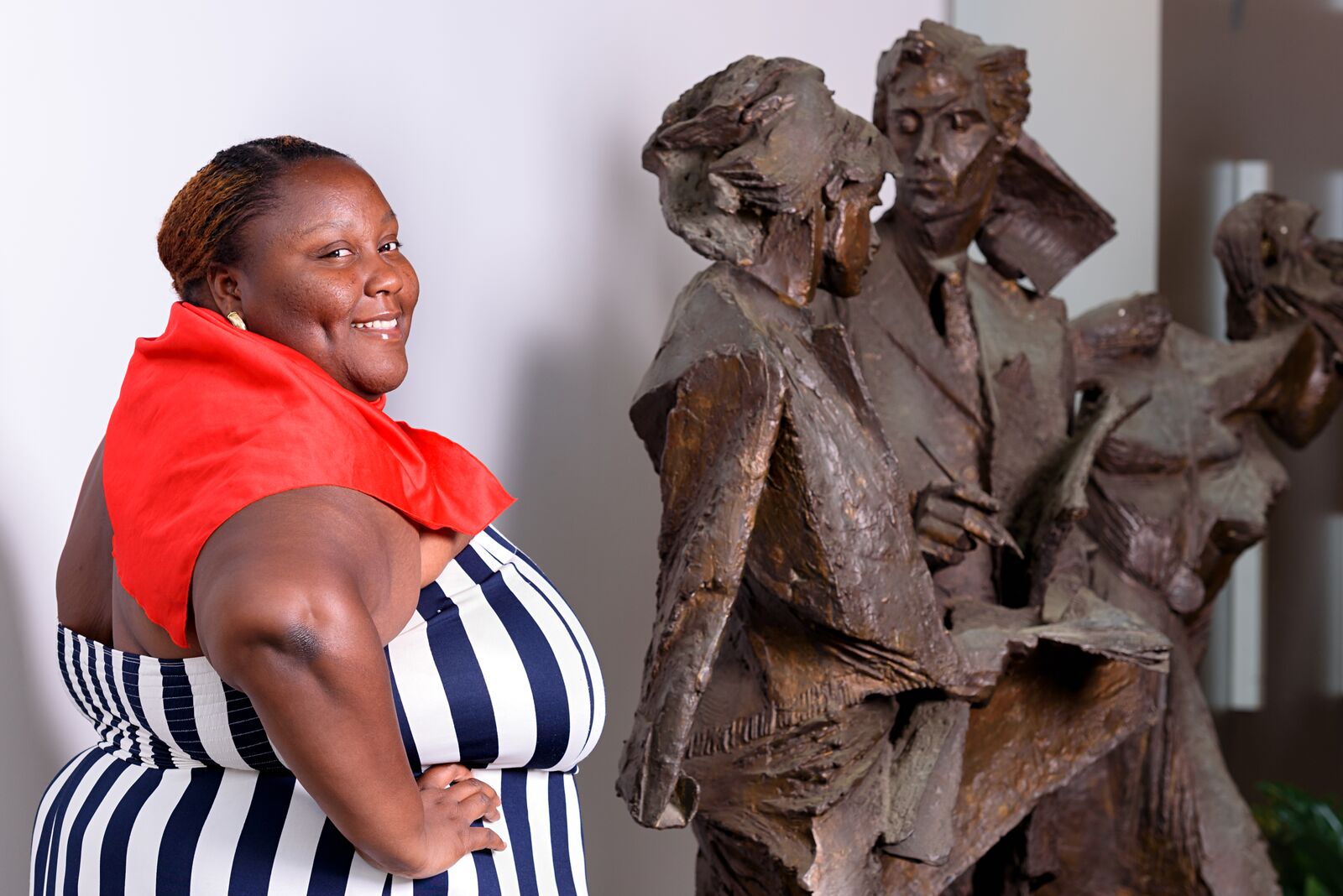 Artistic License
Alanah Nichole hopes to give up-and-coming creatives the keys to driving business and social change.
By Jessica Bizik
Photography by Chris Crews
Within about five minutes of meeting Alanah Nichole, you can't help but think, "Wow, this woman has passion!" But it took her a few false starts to figure out that passion for herself. "I'm only 26, but my story sounds more like someone who's 45," she says. Shortly after the birth of her second child, Alanah woke up and realized she wasn't happy with the direction of her life. "I was working as a HOSPITAL TECH, which I didn't enjoy—and I was in a failing marriage, which, obviously, I didn't enjoy either," she says with a good-natured laugh. "But that's all over now. You can clap for me." **Reader, please take a moment to clap for Alanah.
"Working in the emergency room, I saw people lose loved ones who were the pillars of their families—and
I saw people die alone, where no one came to tell them goodbye," she continues. "You can't experience
that every day and not reconsider your own relationships, your impact, how you want to show up in the
world. It helped me realize I should be doing what I love."
What she loves, it turns out, is the arts—stemming, in part, from her experience growing up in New York City … and having a mom who enrolled her in "every possible dance, theater, and camp," which helped her to develop into the creative, culturally invested woman she is today.
Over the last TK years, Alanah has built a successful career as a consultant for nonprofit arts and culture institutions—launching a popular open mic series, managing events for the Baltimore Office of Arts & Promotion, and serving as the WHAT for Impact Hub, where she's in charge of "space activation." (Hint:
that means event programming, not intergalactic travel.)
Having a female mentor who was a trailblazer in the arts community made a huge difference in Alanah's professional trajectory—and her new start-up, BrwnTek Baltimore, will give her the chance to pay it forward.
BrwnTek will offer learning, networking and career development opportunities for "indigenous creatives" in Baltimore—with a special emphasis on women and people of color. That could take the shape of individualized coaching, access to freelance gigs, workshops to help monetize and market skills, and the
opportunity to join forces (and potentially build equity) with fellow creatives who tend to work in silos around the city.
"Whatever I do, I want to collect data to measure my impact," she says. "Even if my first year results in helping a single arts professional translate her skills into contract revenue, that's a good start."
Alanah's passion to empower young professionals comes from a very personal place. She never went to college. In fact, she was was expelled from high school when she was 16—a time when she really needed support.
"When I was in middle school, my father died of a drug overdose. It was a huge shock to me; I didn't even know he was on drugs. That left me with a lot of trauma to deal with at a young age—and it wasn't always conducive to the curriculum and standardized tests, where you had to perform at a certain level or get classified as stupid," she says.
"For years, I kept wishing for a teacher or role model to see me—to sit me down and say: 'I recognize
your talents and you can build something with them,'" she continues. "The educational system wasn't
willing to do that for me, but I'm going to do it for others."