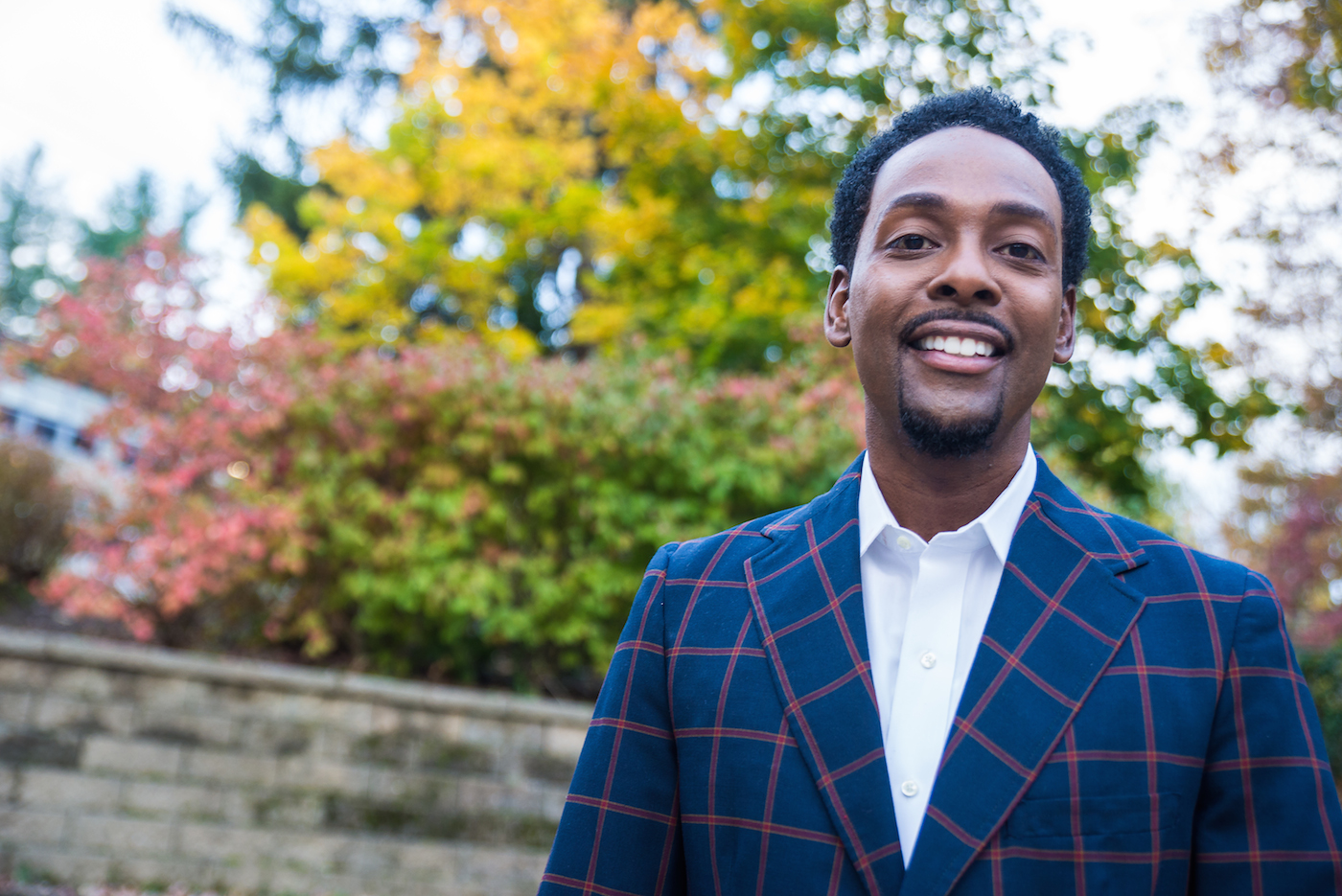 Name:
LaMarr D. Shields
Innovation:
Training students to serve as coaches for new teachers
Age:
42
Home:
Mount Washington
Occupation:
CEO of The Cambio Group educational consulting firm
Hobbies:
Rock climbing, running, eating in vegan restaurants
Students mentoring teachers
Rethinking classroom relationships can empower both educators and educated
By Michael Cross-Barnet
Photography by John Oliver
A blind student taught LaMarr Shields to see his role as a teacher in a whole new way.
It was 1994, and Shields was hurrying down a flight of stairs at Baltimore City College High School, when he literally ran into Henry. The rookie teacher and the visually impaired young man hit it off and formed a close relationship. Shields soon came to realize that Henry was doing more than helping him navigate an unfamiliar city; the boy was guiding Shields in understanding his students and being a better educator. In short, Henry had become his mentor.
Shields, 42, thinks that what went on unofficially between him and Henry can occur in a more structured way for new teachers across Baltimore and beyond. He says students mentoring teachers is not as strange or an uncommon as one might think.
"Henry is not an anomaly," Shields says. "This is happening, but it's happening in a vacuum. It needs to be a more organized effort."
"The best teachers are able to engage their students with culturally relevant material."
The idea is not to randomly pair up students and rookie teachers and hope that something good happens. Students will be carefully selected for qualities such as maturity and motivation, and trained about issues like confidentiality. The program will be carefully explained to teachers and students alike, with matches based on compatibility. Buy-in from school administrators will be critical. And teachers will never be coached by their own students.
Shields, who is originally from Chicago, hopes to launch the program at Baltimore City College, where he taught for six years before leaving to found a language school, a TV and radio show, and eventually two educational consultancies.
The key to student-coached teaching, according to Shields, is what he calls the "fourth R": relevancy. "The best teachers are able to engage their students with culturally relevant material," he says, recalling how Henry advised him to "make sure what you're teaching them is something they can use outside the building."
Shields is out to empower both students and teachers, but his larger ambition is to change how society views the student-teacher relationship and the educational process. Countless interventions aimed at helping new teachers have not prevented a high percentage of them from quitting within their first year or two.That's one reason Shields wants to try something very different – even a bit radical.
"My goal in creating this process is not to do what everyone else has done," he says.