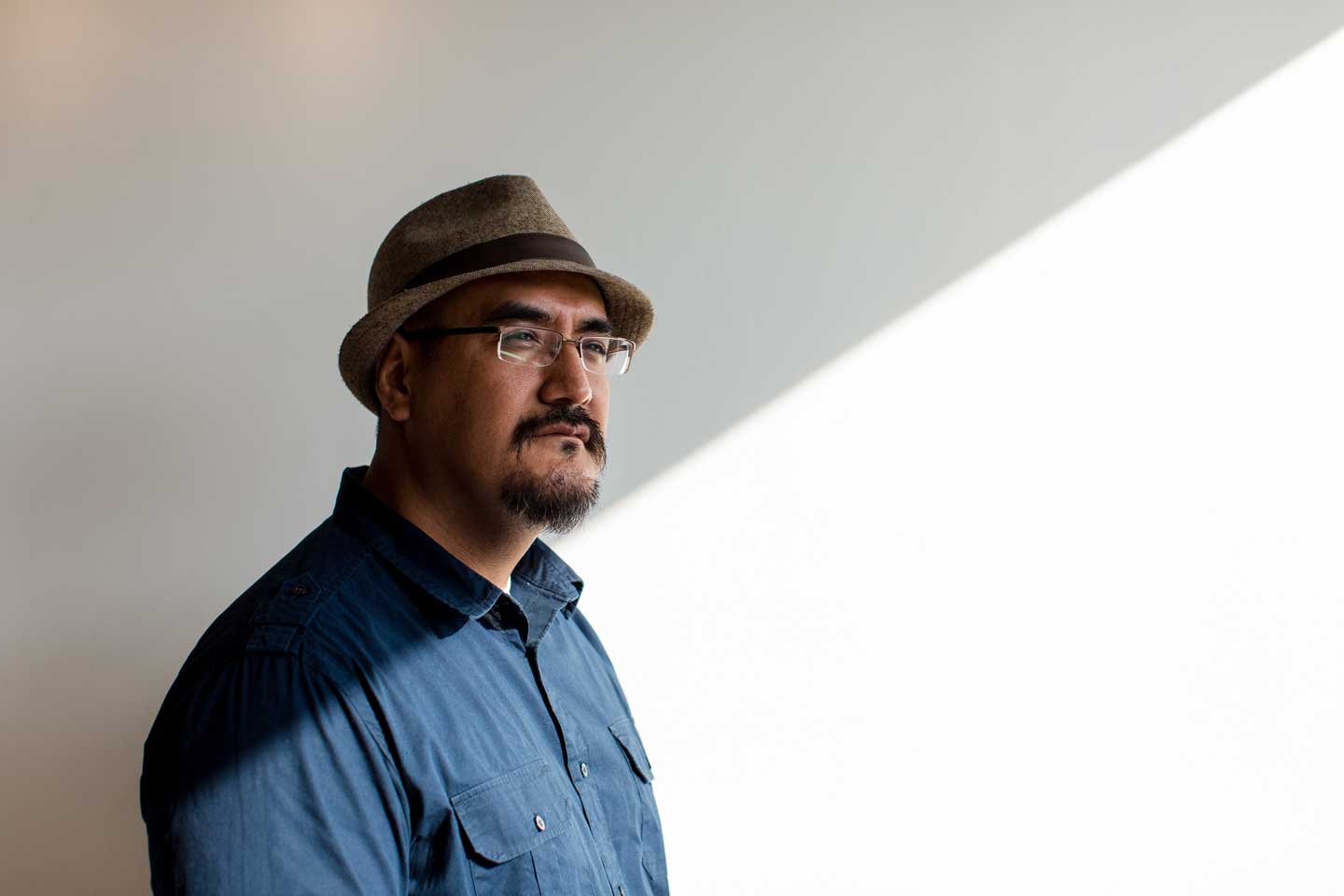 Name:
Juan Ortiz
Innovation: Conducting art workshops to discuss and confront racism
Age: 40
Home: Highlandtown
Occupation: Leading Neighborhood Voices at Creative Alliance
Hobbies: Traveling, creating art, dancing
Fun Fact: Believes that eating together is as important as talking together, so every Neighborhood Voices workshop includes a good meal.
Social justice activism and art combine to bring insight and understanding to an East Baltimore neighborhood.
By Lisa Simeone
Photography by Justin Tsucalas
When Juan Ortiz told friends he was moving to Baltimore, the most common response he got consisted of two words: "The Wire." Then they asked him if he was worried.
"Why should I worry?" he says. "I come from a border town. And Baltimore is a border town."
Growing up in El Paso, Texas, with Ciudad Juarez right across the border in Mexico, Ortiz experienced his share of violence. He grew up in poverty, was victimized by crime as a teenager, and watched various neighbors and relatives get swept up into the drug trade, ending up dead or in prison. He grew up fast, becoming a father at age 17 and realizing he needed to take responsibility for his family. After graduating from the University of Texas at El Paso, he moved to New York to attend NYU's Tisch School for the Arts, where he earned a Master's Degree in Art and Public Policy. It was while working on a PhD at Texas Technological University that he saw TV coverage of the Freddie Gray unrest and decided to transfer to the Maryland Institute College of Art, where he earned an MFA in Community Arts. And it is art, as much as political awareness, that drives his work.
For the past four years, Ortiz has been part of a group called Neighborhood Voices. Its members conduct workshops to talk about race and racism, and they create artworks while they're doing it. Ortiz calls Baltimore a border town because of the divide he sees among black, brown, and white people, especially in the close-knit yet segregated neighborhoods of East Baltimore. The traditionally white working class blocks of Highlandtown are now seeing an influx of Latino residents, while primarily black residents populate the area above Patterson Park. And down by the waterfront are the wealthier inhabitants of shiny new apartments and condos.
I recognized this place when I came here," he says. "It reminded me of El Paso. We're thrust in the middle of a lot of possibility for racial tension, for discord. In Neighborhood Voices, we want to find a vocabulary to talk about race.
Each workshop brings together residents of all ages and backgrounds for an intensive six-hour session, and art is always a component. At one workshop, for example, participants created cards embedded with audio chips. When you open a card, you hear the person's voice, telling you a story about his or her experience. The cards were later part of a public exhibition at the Creative Alliance, where the workshops are held.
"We're not going to solve structural racism overnight," says Ortiz. "But we're doing this, holding these conversations, where we live. Otherwise, we wouldn't interact with each other. And I want to expand these conversations into spaces that don't normally have them."