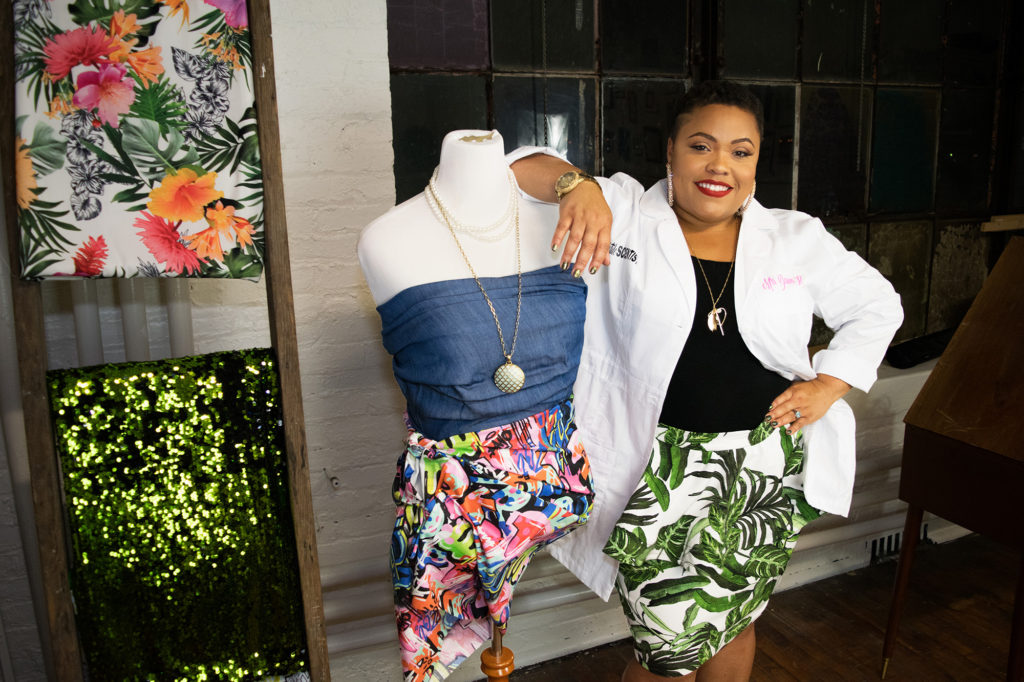 Name:
Dawn Kennedy
Innovation:S.T.E.A.M. while Sewing
Age:36

Home: Cherry Hill, MD

Occupation: Engineer @Northrop Gruman
Hobbies:Sewing and woodworking

Fun Fact: Jack-of-all-trades. She's an undercover handy man.
Twitter Handle: @compassionatelycreative
An engineer meshes sewing to create fashion with technology
By Jessica Bizik
Photography by Chris Crews
Dawn Kennedy is a self-proclaimed "jack-of-all-trades". Before becoming an engineer, she was a teacher for nine years. Working in the field, it is difficult not to notice the low percentage of women represented. "It's important because the female population in the S.T.E.A.M. community is low. It's 24 percent. That's not good enough. Our girls need to be shown that they can do this, " she explained. The lack of presence led her to create an educational program for students underrepresented in the S.T.E.M. community and those who want to learn the art of entrepreneurship.

The S.T.E.A.M. while Sewing program is designed to help young people create innovative clothes with the capabilities to change the world. "We have projects for the homeless. We are creating a blanket or gloves for the homeless to show when it's cold and the temperature is going up or down." Students also learned to sew with sewing machines and used LED to light up a bookmark. The program is currently operating at Lockerman Bundy and Stewart Hill Elementary Schools. "The connection that I've had with young people really keeps me going." The goal of the program is to one day become a part of the Baltimore City Schools curriculum and to participate in Light City Baltimore.

"The connection that I've had with young people really keeps me going."
"My children are exposed to this program. It is important for them to see their mom trying to reach out and helping others." The mother of three wants to help girls gain self-confidence to get out there and try. But the program is not just limited to young women. "As a teacher, many of my male students are dead. Exposing them to S.T.E.A.M. is a way of saving them and showing them that there is something else out there."

With a strong support system, Dawn is committed to helping the community. She teaches sewing classes for everyone at her studio, including men. "You can come and sew a clutch or even make a bow tie."