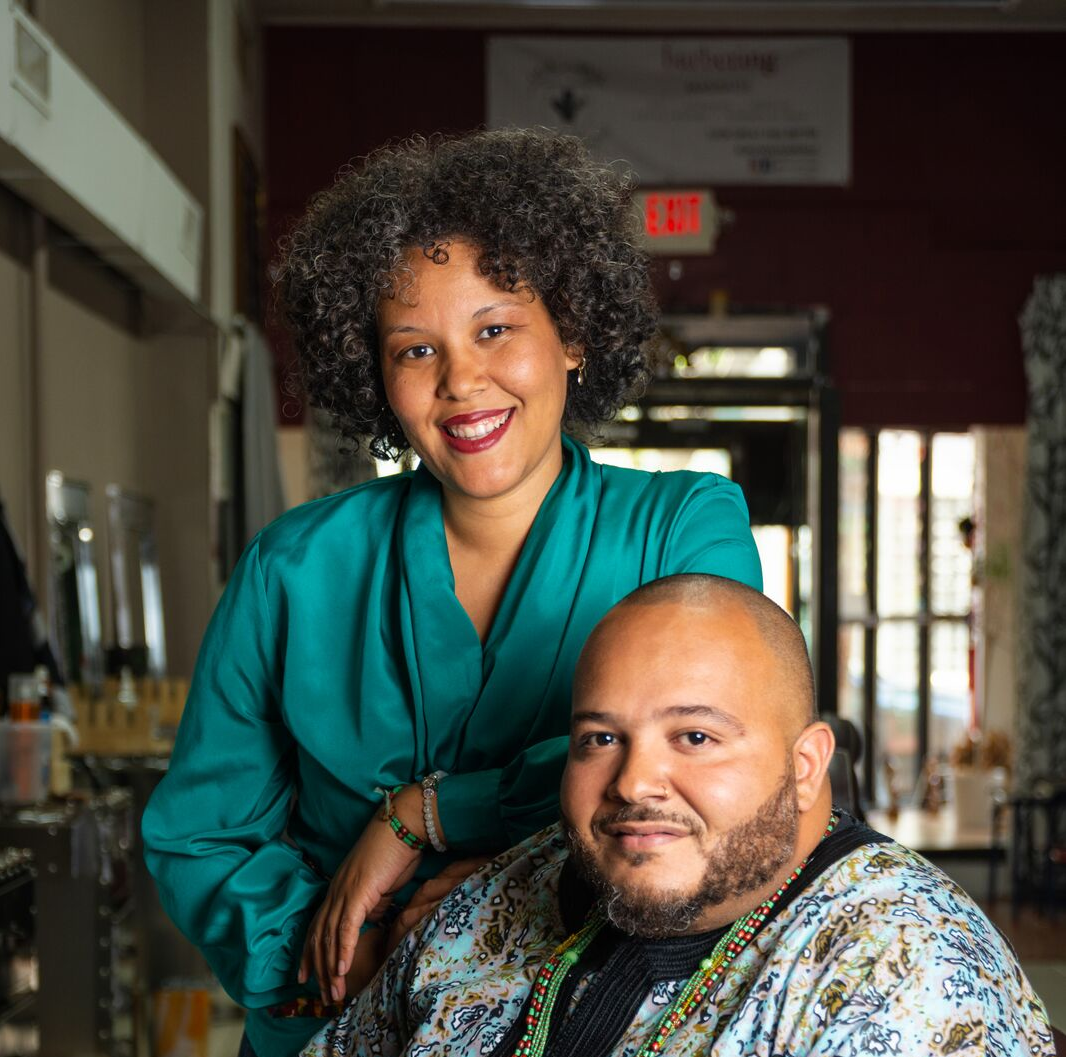 Good Vibes
Only This couple aims to heal Baltimore's trauma-impacted communities—one trim, shave and massage at a time.
By Jessica Bizik
Photography by Chris Crews
Seven years ago, Oscar Bueno and Belinda Prattis met in an elevator. Today, they help their customers manage life's ups and downs through Our Spot (ourspotbmore.com), their wellness-infused barbershop in Pigtown.
"Before we started dating, we had corporate jobs in higher education, but we weren't passionate about them," says Oscar, a former business development manager, who quit to go to barbering school. Belinda left her job as an academic advisor to start a personal chef business, then went on study massage therapy.
One Father's Day weekend, when Oscar was still cutting hair at a buddy's shop in Fell's Point, Belinda offered to come give free chair massages to all the dads.
The only problem? At first, most of the men were too embarrassed to take advantage of it.
"There's a stigma, especially for men of color, that this type of touch is girly, not manly," says Oscar. "I had to whisper in my clients' ears, 'Hey, man. You should check out that chair massage. You don't understand how much you're hurting, how much stress you're carrying. Give it a try.'"
Once a few guys tested the waters, they loved it—and Belinda had a line of dads out the door. This confirmed the couple's belief that creating a safe space that combines grooming with community wellness was a dream worth pursuing.
"We came up with the idea in 2015, when almost every week, we'd turn on the news to see Black and Brown men being killed or savagely beaten at the hands of police," says Belinda. "This kind of touch is invalidating to one's existence. It says you don't matter. We wanted to introduce touch that was neither violent nor sexual to a population that's not used to receiving it—but in a setting that was already familiar."
Our Spot has a decidedly fun, family friendly vibe: bright colors, local art, a soundtrack of 90's hip hop, dance funk and Latin (paying homage to Oscar's Dominican roots). It smells divine, thanks to the all-natural grooming and body products that Belinda crafts by hand. And there's a designated kids zone where—get this—children are encouraged to write on the walls.
In fact, there's really only one rule at Our Spot—and it's for the adults. In the entryway, you'll find a sign that reads: "Please be responsible for the energy that you bring into this space."
"That's paramount to our mission," says Belinda, who is half Black and half Korean, and draws inspiration from both sides of her family tree (and beyond) to direct the shop's holistic services, including massage, acupuncture, reiki, chakra balancing and IFA divination readings rooted in ancient African teachings.
"If people try to cut up and riff raff, Oscar has no problem saying, 'You know what? This might not be for you,'" she says.
This fall, Our Spot will partner with Pivot Baltimore, which connects women released from the corrections system with critical services to help them reclaim their lives. Belinda will serve as an instructor for the
wellness portion of their program, and the couple will offer free haircuts and massages to all the women for their graduation.
"Our big dream is to one day open a school for returning citizens who are interested in becoming barbers or massage therapists—both such viable, enjoyable careers," says Belinda. "We hope to actually go into the prisons to teach the classes."