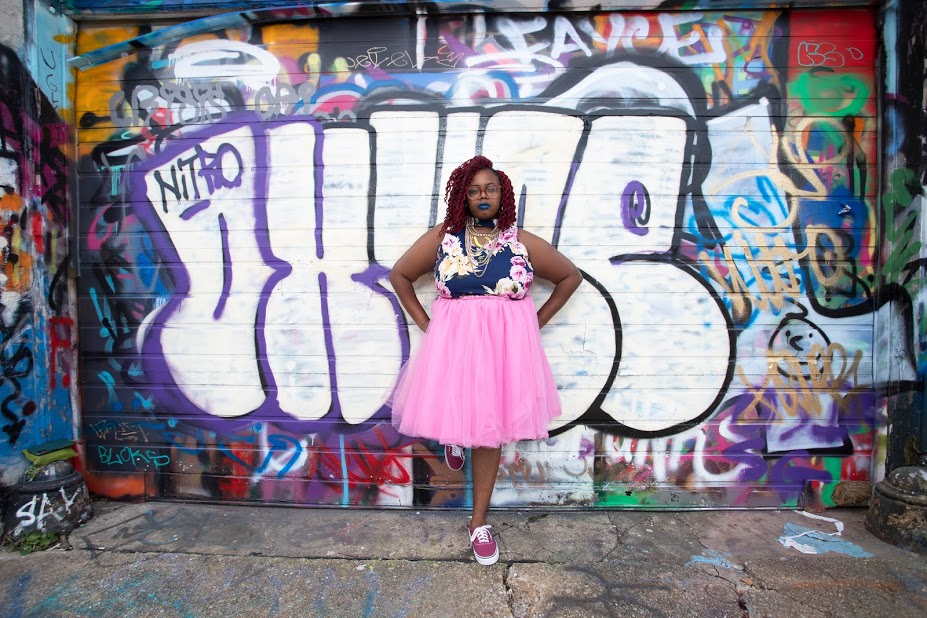 Dress for Success
Antoinella Peterkin is helping Baltimore families bond through fashion design.

By Jessica Bizik
Photography by Justin Ross
Antoinella Peterkin has style for miles. The self-taught "reconstruction" designer and member of the RAW artists collective is known for her fun, flirty tutus for women. But recently, she has shifted her focus to Baltimore's youth — leaving her day job at a local charter school to run F.A.M.E. (Fashion, Art, Mentoring, Etiquette), the after-school program she launched in 2015 for design-minded grade schoolers.
The social entrepreneur's latest project is hosting Tutu and Bowtie Bonding Workshops — a series of "Mommy & Me" and "Daddy & Me" experiences, where each adult and each child makes their own unique garment, either a tutu or a bowtie. At the end of the workshops, Antoinella gathers all the families for a fun iPhone photo shoot or "rip the runway" fashion show, so they can show off their masterpieces.
"My parents didn't really know what to do with me when I was a kid, because I was so different and creative, kind of an oddball," says Antoinella. "So I thought these workshops would be a fun way to help parents embrace their children's creativity in a fun way."

While the format generally remains the same, Antoinella sometimes experiments with different themes and guests. For example, she recently hosted a Tutus and Tacos party — and, really, can you ever go wrong with tacos? And at an upcoming Daddy & Me event, she plans to bring in a cosmetologist to teach the fathers some easy ways to do their daughters' hair. ("That's another great way to bond," she says.)
Best of all? These workshops have given Antoinella the chance to bond with her own father, too.
"My dad was out of my life from the age of 9 to 23, so when he came back around a few years ago, it was very awkward. But one thing we realized is that we both love fashion and getting dressed," she says.  
"So when the all-girls school I was working for at the time hosted their annual father/daughter dance, I invited my dad to come with me."
That night, the duo dressed up in color-coordinated outfits (complete with matching hats), hit the dance floor, and made a commitment to rebuild their relationship. 
"That moment sparked a whole new connection for us — and I thought how amazing it would be to have my father side-by-side with me in my business," says Antoinella, who soon after asked her dad to become her event co-facilitator. "He's not as outgoing as I am, but he is really helpful and will do anything I ask. His new life philosophy is: 'Whatever baby girl wants, baby girl gets.'"
What Antoinella really wants is to make a difference in Baltimore — and she is already seeing the positive effect of her work on the community. 
"I recently hosted a mother/son event that was on the smaller side, but that made it more intimate. So everybody was able to talk and relate to each other," she says. "I overheard the boys saying things like, 'Wait, your mom does that? I thought my mom was the only mom who does that!' And, of course, the moms had similar revelations."

Antoinella was overjoyed to see these families bonding collectively — sharing tips on how to handle certain life situations, along with contact info and business cards, so they could keep in touch.

"That's when I realized we're not just bring households together with our workshops. We're bringing the city together," she says.