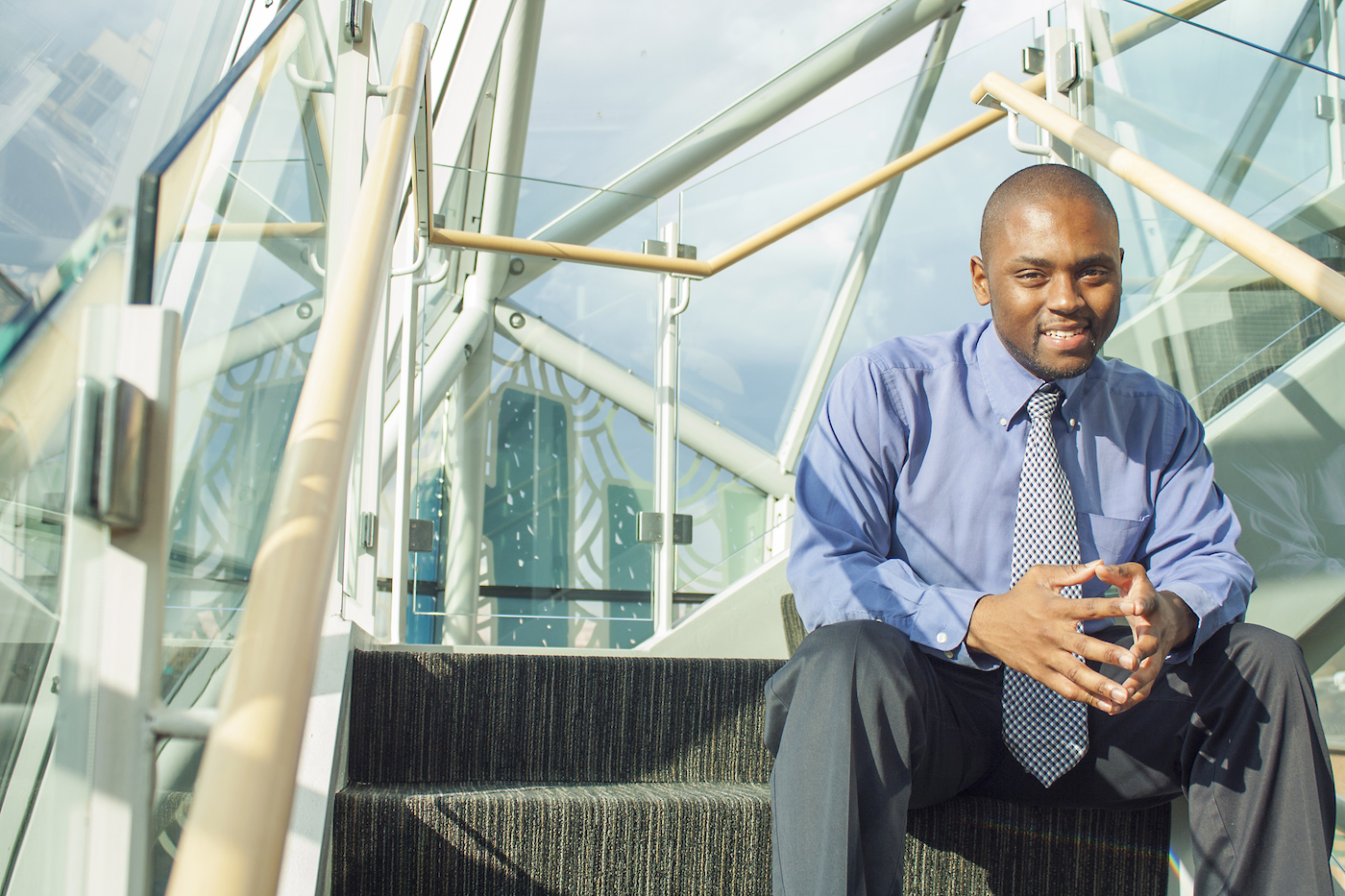 Name:
Verlando Brown
Innovation:
Giving first-generation college students the resources to succeed
Age:
26
Home:
Baltimore
Occupation:
Graduate student
Hobbies:
Reading, dancing, going to plays
Lifting up first-generation collegians
Students without a family tradition of college are at higher risk of dropping out
By Michael Cross-Barnet
Photography by Katie Simmons-Barth
When Verlando Brown started at Towson University, he only had to travel about five miles from his home in West Baltimore – but he might as well have landed in a foreign country. Growing up poor in a housing project plagued by drugs and crime and attending the troubled Frederick Douglass High School, he found himself unprepared for campus life.
"I really want to see institutions collaborate with one another on programs and initiatives to make first- generation students successful."
Many of Brown's fellow students seemed to have been preparing for college their entire lives, bolstered by family traditions and expectations. By contrast, he suffered from a series of troubles common to first-generation college students: poor time management skills, underdeveloped study habits, depression, frustration and alienation. Little wonder that, according to Brown's research, 30 percent of first-generation collegians drop out in their first semester. It's a fate that almost ensnared Brown – and one that he is determined to help others avoid, by demanding that colleges and universities take strong steps to lift up some of their most vulnerable students.
The first step, he says, is to convene what he calls a "community conversation" involving students, parents, educators, government representatives and nonprofit leaders. He'd like to see such events take place annually and conclude with specific commitments from university officials and other leaders to do more to support first generation students. Such efforts could include connecting students to resources that they may not know are available; promoting dialogue and awareness on campus about the issues specific to this population; addressing the financial and family issues that place many of these students at risk of dropping out; and helping the students build support systems to get them through difficult times.
"I really want to see institutions collaborate with one another on programs and initiatives to make first-generation students successful," Brown says.
As an example, he points out that many first-generation students work at off-campus jobs to help pay for college, further separating them from activities and events on campus. Brown says schools should create more jobs on campus for these students so they will be better connected to the community. Offering workshops on time management and study skills would also help.
After working for a nonprofit helping children and adults with behavioral problems, Brown, 26, is getting a master's in human services administration at the University of Baltimore, which he plans to put to use in a career helping first- generation college students. "I want to make sure students have the resources they need," he says.