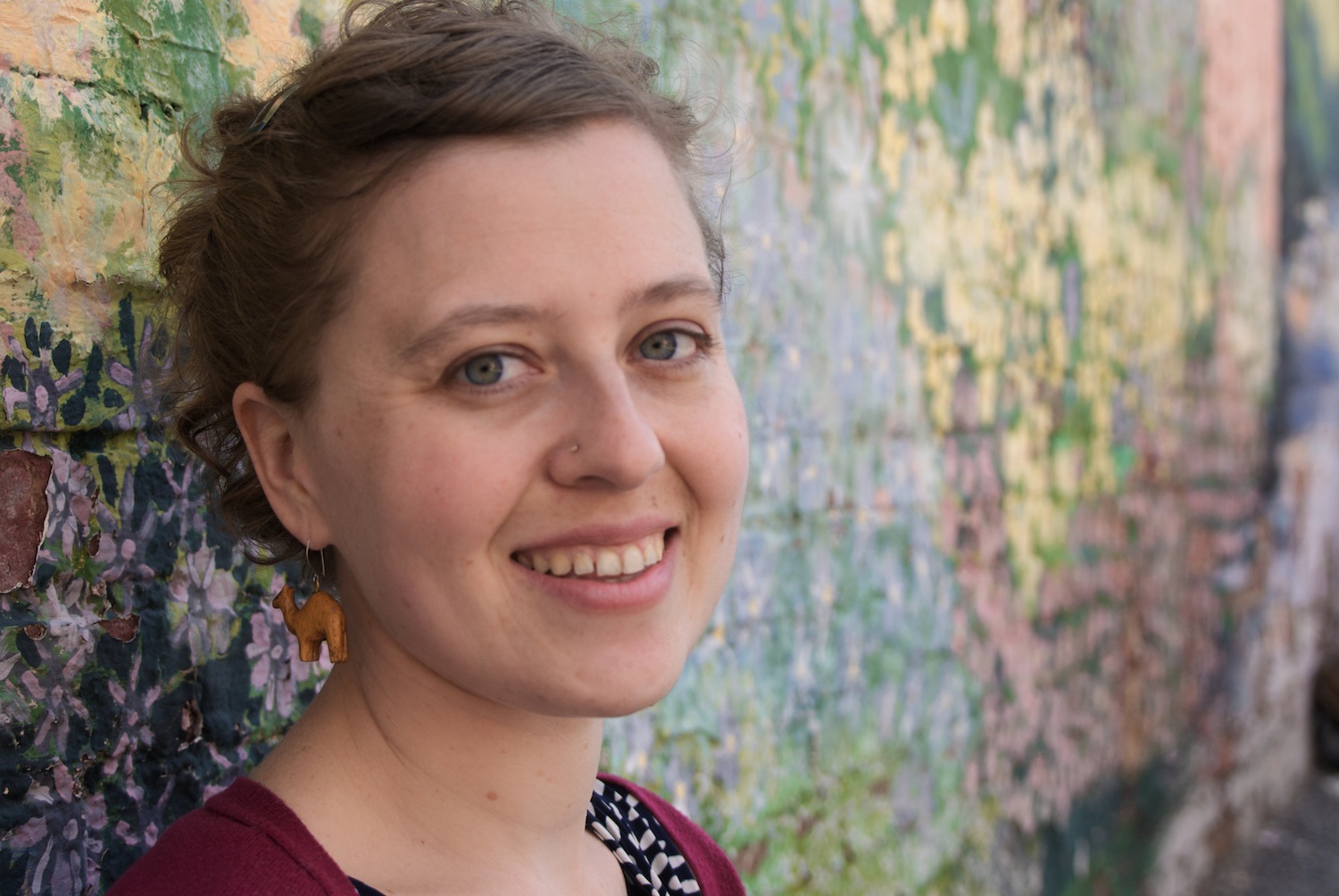 Name:
Natasha Jones
Innovation:
Using technology to spread information about public art
Age: 29
Home: Mount Vernon
Occupation: Library digitization specialist
Hobbies: Reading memoirs and historical fiction
Public information about public art
Turning Baltimore's murals and monuments into educational, economic assets
By Michael Cross-Barnet
Photography by Anna Bross
Who painted that mural on Maryland Avenue of the silhouetted figure with arms sprouting tree branches? Why is there a monument to Confederate women just across University Parkway from the Johns Hopkins campus? And which famous Harlem Renaissance artist's work is displayed in a Baltimore Metro Subway station?
Natasha Jones is tracking down the answers to these public art mysteries – so that the rest of us don't have to. Then she wants to make that information available to everyone.
It turns out there is little easily accessed information on the hundreds of pieces of publicly visible art that dot Baltimore's landscape. Jones, who works as a digitization specialist for the Johns Hopkins University's Sheridan Libraries, hopes to create an online database – a kind of one-stop shop for information about the city's public art treasures. Such a database would serve multiple purposes: promoting local artists, giving educators a teaching tool, and boosting the local economy by encouraging tourism.
"After a mural is painted or a statue installed, it falls away into the environment. We pass by it every day, and it kind of goes unnoticed."
The project brings together two of Jones' abiding interests, art and information – with technology as the glue connecting them. Jones grew up in Ridgely's Delight attending a tiny theater-oriented school and eventually studied fine art and art history at Towson University and public history at University of Baltimore. She has worked as a conservation tech at the Baltimore Museum of Art and spent a year at the Smithsonian studying how the National Museum of Natural History acquired its collections.
On the road to her career in the art and museum worlds, she took a public-health detour, working for an NGO in Uganda collecting information about prevention of mother-to-child HIV transmission. That is where, Jones says, she "fell in love with data – which is at the heart of this project."
Museum visitors can generally learn a lot about what they are looking at, but that's not true of the art Baltimoreans see every day as they drive, walk around, or relax in a public park. After a mural is painted or a statue installed, it "falls away into the environment," Jones says. "We pass by it every day, and it kind of goes unnoticed." That's a shame, she says, and not just for the creators of the works. She thinks the city is losing important opportunities to benefit from what she calls "an incredible asset" for Baltimore.
With the help of programmer, Ali Ibrahim, Jones intends for her database to have a web interface to make information about public art available to anyone who might benefit from it: educators, artists, nonprofits, tourists and ordinary residents. She foresees visitors using smartphones to enjoy public-art walking tours, and local teachers downloading and printing out spreadsheets in their classrooms. Artists will use the site to see what other artists are up to. "It's a tool for engagement," Jones says.
By the way, Romare Bearden is the great African-American artist whose mosaic of Billie Holiday graces the Upton subway station. As for other questions about public art in Baltimore, stay tuned; Natasha Jones is on the case.