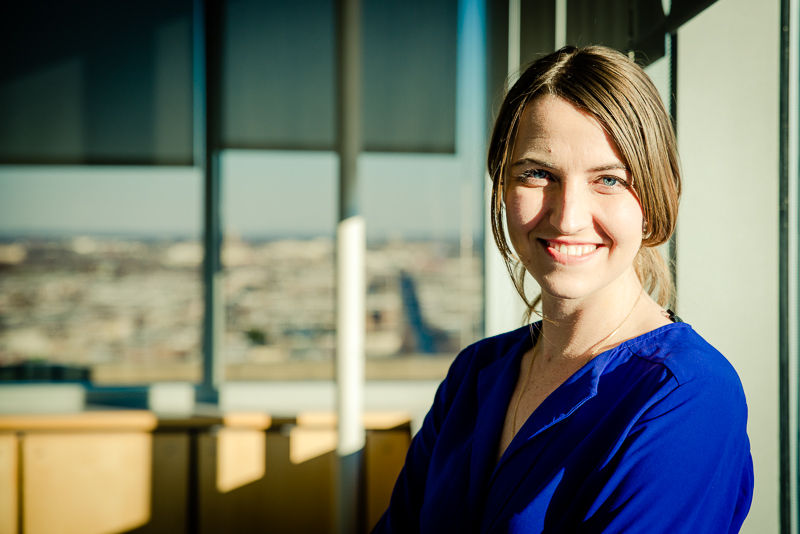 Name:
Jessica Ladd
Innovation:
Using technology to make it easy for patients to receive results for sexually transmitted infection testing
Age:
28
Home: New York City and Baltimore Occupation: Phd student, nonprofit founder
Hobbies: Softball, Scrabble
Twitter: @jessicahladd
Improving sexual health through technology
With public health student's website, confidential test results are just a few clicks away.
By Michael Cross-Barnet
Photography by John Oliver
Baltimore has one of the highest rates of sexually transmitted diseases in the country. Worse, 40 percent of patients who are tested for STIs at the two city-run clinics never return to get their results. As a consequence, thousands of Baltimoreans don't know they're sick – and neither do their partners. Jessica Ladd wants to do something about that. A PhD student in infectious disease epidemiology at the Johns Hopkins Bloomberg School of Public Health, Ladd is harnessing her technology skills to preventing the spread of disease. The project she is developing, dubbed "Private Results," aims to take the stigma and embarrassment out of receiving an STI diagnosis by making the process as painless and effective as possible.
"I like to look at the ecosystem of sexual health and well-being and what needs are and aren't being served."
People who don't know they have an STI don't get treatment, and they continue to infect others. Moreover, health workers who could be providing prevention services out in the field have to spend their time in the office delivering test results instead. That's where Ladd's idea comes in. Visiting a clinic can be unpleasant and inconvenient, which is why so many patients don't return after getting tested. Ladd's system offers a shortcut: test results that can be accessed through a secure website that also tells patients what to do if a test comes back positive. Those without Internet access can get their results via a toll-free phone number, in English or Spanish.
It's a simple concept, yet Ladd says few public health departments are doing anything like it – and those that try generally fail to clearly convey the test results or what the patient should do next. Ladd's interest in sexual health stems from her childhood in San Francisco, where thousands of people, mostly young, gay men, were being struck down in their prime by HIV/AIDS. "My city was just sort of dying around me," she says. At Pomona College, where she created her own major in public policy and human sexuality, she volunteered with an HIV/AIDS organization and wrote her thesis on condom distribution policies in California prisons. Ladd, 28, grew up a "science fiction nerd" and learned computer coding on the way to launching five websites. "Private Results" isn't her first effort at fusing technology with challenging health issues, and it won't be her last. The nonprofit she founded, Sexual Health Innovations, has a successful program, "So They Can Know," that uses digital tools to make it easier for people with STIs to take on an awkward task – informing their sex partners that they may be at risk. Next on her agenda: an initiative to address sexual assaults.