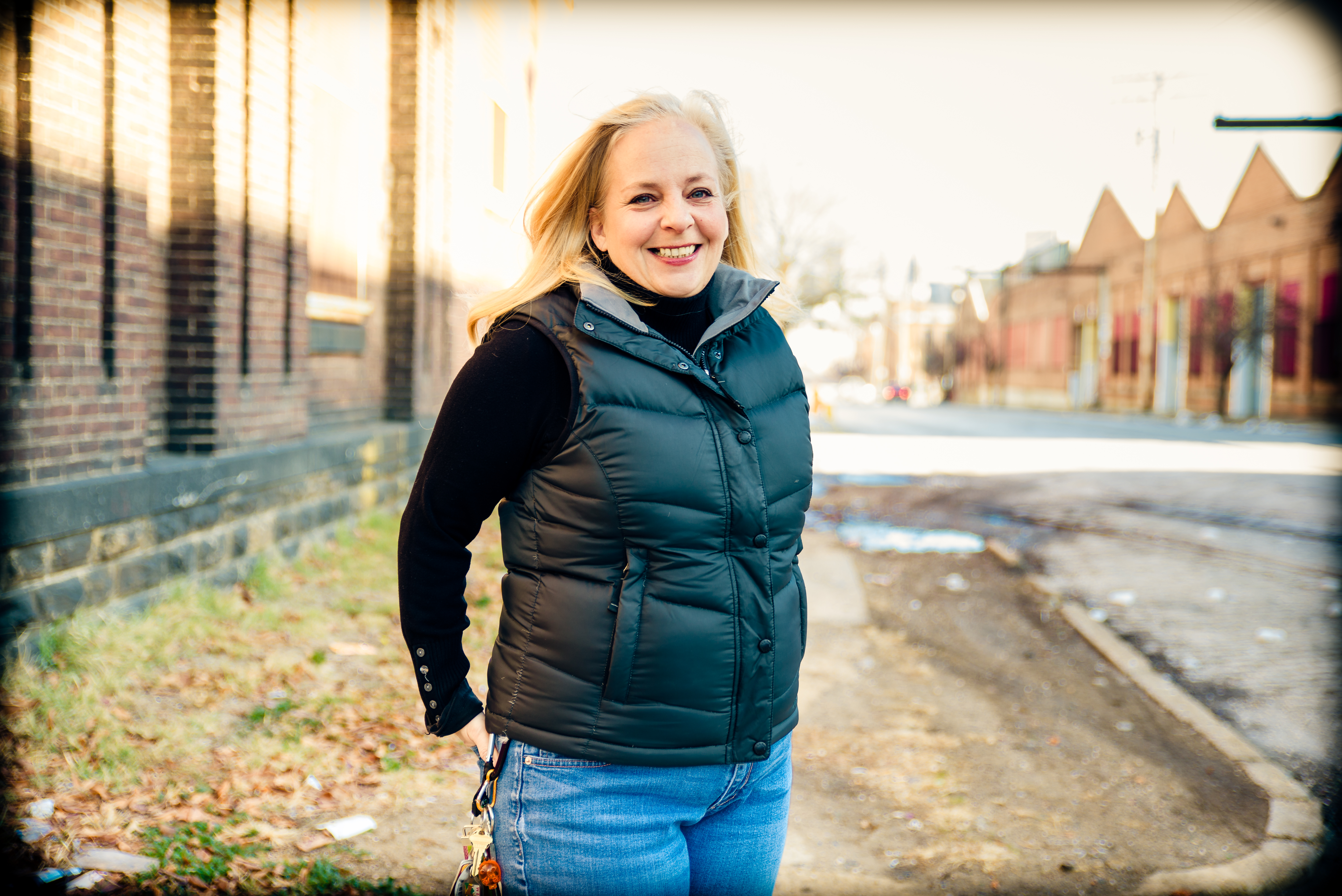 Name:
Carol Ott
Innovation:
Using crowdsourcing to improve decision-making for commercial development in neighborhoods
Age:
45
Home:
Baltimore (Pigtown)
Occupation:
Nonprofit director
Hobbies:
Cooking, photography
Twitter:
@housingwatchmd
Crowdsourcing the corner store
Online platform can give city residents a voice in local commercial development.
By Michael Cross-Barnet
Photography by John Oliver
New shops and restaurants can be a shot in the arm for a neighborhood, but sometimes businesses are plopped down in areas where they aren't needed or wanted. Carol Ott has seen it time and again. In her neighborhood of Pigtown, she says, "there's a lot of duplication" of services. She points to five convenience stores in a three-block radius – and another one about to open.
Ott thinks it doesn't have to be that way. She wants neighborhood residents to have a voice about the kinds of businesses that appear on their streets, and she's touting an outside-the-box way to make that happen: crowdsourcing.
"I feel like the city deserves so much better than what it gets."
The premise is that when it comes to commercial development in a community, the people who live there deserve a "vote." First, the property owner agrees to put a sign up in the window of a vacant commercial space, inviting residents' input on what they'd like to see there. Then, residents go online to advocate for the kinds of businesses they most want – a florist, perhaps, or an old-fashioned butcher shop, or a casual restaurant. The concept has worked in Oakland, Calif., and a group from Silicon Valley, aware of Ott's work on local property issues, approached her about trying it here.
As Ott sees it, there's something in this for everyone. The benefit to residents is obvious. Commercial brokers can point merchants to a location where a certain kind of business would be welcome. Business owners would know they were wanted in the community, which should improve their odds of success (half of all new small businesses fail within five years). Merchants could also engage with residents online about things like hours of operation, parking, and what goods and services would be most valued.
Ott, a mother of two who moved to the city 13 years ago, has strong feelings about what goes on in her community, and she's not shy about taking action. When men would troll the street near her home, looking for sex, she posed as prostitute and handed out fliers suggesting they take their business elsewhere, while a friend snapped photos of their license plates.
But it's not just her own backyard she cares about. As the director first of the Slumlord Watch Project and now of Housing Policy Watch, Ott has been active in Baltimore's struggle against vacant and neglected properties. Doing something about empty or underutilized commercial spaces seemed to her to be a logical next step. Behind all of these projects is Ott's sense that too many Baltimoreans feel voiceless and powerless.
The beauty of commercial development by crowdsourcing, Ott says, is that it turns ordinary neighbors into activists. Instead of a decision being made for the community by outsiders, she says, "this way, everyone's involved."
Innovation Journal Update:
Carol Ott's activism is restless and ambitious. Six years ago, she started Baltimore Slumlord Watch to hold irresponsible property owners accountable for maintaining their rental buildings. That sparked the idea for Housing Policy Watch, a more expansive attempt to strengthen neighborhoods by monitoring vacant properties, advocating for fair housing policies, and increasing affordable housing in the city. She was a winner in the initial round of the Baltimore Social Innovation Journal in 2014 for an initiative to give residents a greater say about commercial development in their neighborhoods.
Now, with the help of a $30,000 follow-on grant from the Warnock Foundation, Ott is stepping up her game again, this time focusing on reviving manufacturing — once the lifeblood of Baltimore's economy but now largely an afterthought.  
Ott sees a natural connection between her longstanding interest in housing issues and her newer focus on jobs and manufacturing.
"You can't really talk about housing without talking about salaries — the two go hand in hand," Ott says. "Manufacturing jobs traditionally have offered a pathway to homeownership, financial stability, a way to send your kids to college."            
Ott does not fantasize about a return to the days when Sparrows Point and General Motors employed tens of thousands of Baltimoreans in good-paying jobs that did not require a college degree. Her goals are far more realistic: reintroducing small-scale manufacturing to appropriate locations around the city, starting with the neighborhoods near her home in Pigtown.       
To that end, Ott recently helped organize a tour, in conjunction with the Baltimore City Planning Department and the preservation group Baltimore Heritage, of several carefully researched industrial properties in Southwest Baltimore that she sees as good candidates for adaptive reuse. The tour drew 40 attendees, including business owners, developers, architects and planners, and garnered a favorable write-up in the urban issues website CityLab. A second tour, in the works for later this year, will explore sites in East Baltimore.       
As she explores the possibilities of nurturing manufacturing in Southwest Baltimore and beyond, Ott is also keeping up with her activities around housing, and especially her concern about a group that she says falls through the cracks of housing policy: middle-income renters.
"The city isn't going to thrive without a strong middle class,"Ott says. "I've been focusing on how we can lower housing costs for these folks, because they typically don't qualify for any housing subsidy."
Ott says the financial boost and expert advice she's getting from the Warnock Foundation means she can spend less time fundraising and instead fully devote herself to her mission.
"I can truly focus on the work,"Ott says. "This gives me the opportunity to focus on the matter at hand and run with it."