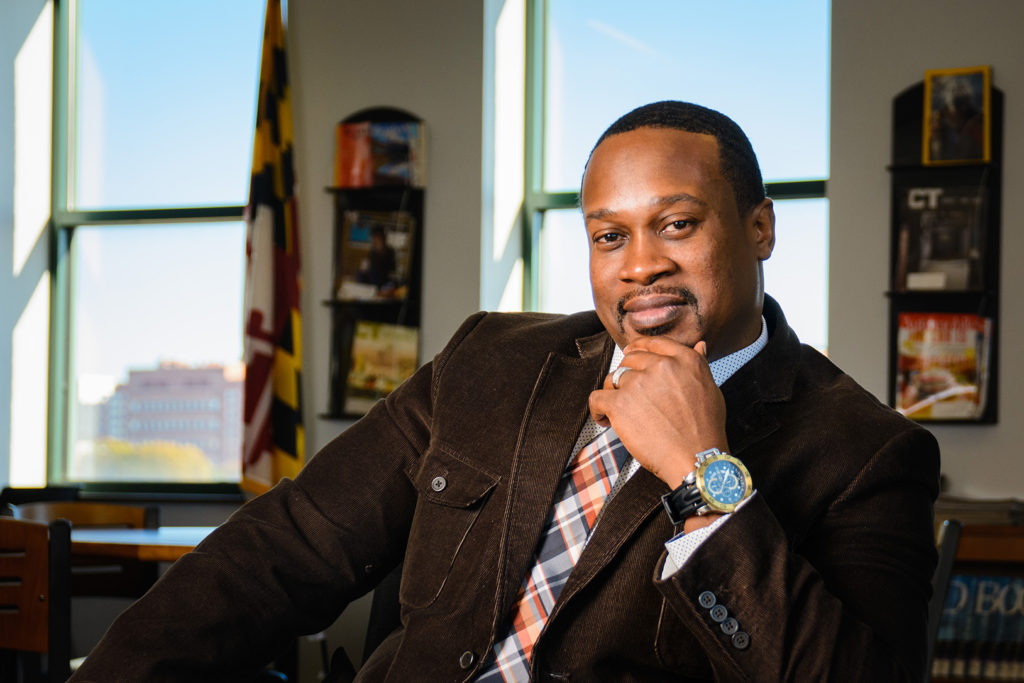 Name:
Bennie Brimage
Innovation:Reference Hive online employment platform exclusively for transitional shelters and other social service agencies.
Age:42

Home: Odenton, MD

Occupation: Business Analysis
Hobbies:Watching sports, UFC football, Sports fanatic, movies, working out

Fun Fact: Huge sci-fi geek. Loves world domination stories.
Twitter Handle: @brimmagebrand
An IT professional changes the job market for those that need it most
By Jessica Bizik
Photography by Chris Crews
"Let your network speak for you," explained Bennie Brimage. The business analysis believes that friends, family, and coworkers are the best references when seeking employment and building an online presence. With employment websites like LinkedIn leading the workforce, it is easy for friends and former coworkers to endorse your skillset. But not everyone has the luxury of signing up for a LinkedIn account. People who live in transitional homes struggle to find employment without an online presence.

"Let your network speak for you."
As technology continues to dominate our world, Bennie wants to level the playing field for individuals living in transitional shelters and those with lower incomes. "I see people struggling out there and I wondered could it be a job situation. I developed a hypothesis and found it to be true. I truly believe I can solve that problem." The solution is the Reference Hive, an online employment platform that allows individuals seeking employment to create a profile. After the profile is complete, anyone can comment on his or her work experience. "At the end of an interview, they ask can you send me your references. Why not have a website that caters to just that, " he suggested.

Bennie moved to Baltimore to increase his earning potential, but when he arrived he immediately knew that he wanted to make an impact in the area. In his eyes, the best way to do that is to make sure the unemployment rate decreases. "I want to leave a legacy behind. My cousin runs a nonprofit for that cuts hair for the homeless. Their mind is different and they feel different. Why not do something to get them going." With an IT background and his business skills, Bennie has the right skillset to impact the job market in Baltimore. "I always wanted to create a social media network but I didn't know at what level. It's easy for this generation. They are digital immigrants, born with an ipad or iphone in their hands. Those born into poverty don't have that luxury."